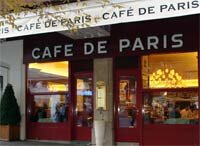 Perhaps authors such as Robert Wright (NonZero), Yochai Benkler (Penguin and the Leviathan), and David Amerland (What If We Had A New Value System For Goods and Services) are correct. Cooperation is our genetic makeup, our human aspiration.
Daniel Pink's Drive: The Surprising Truth About What Motivates Us explains differences between intrinsic and extrinsic motivation. Around 30% of people are extrinsically motivated Pink explains. Extrinsically motivated people respond to Stimulus – Response rewards more than intrinsically motivated people. Extrinsic motivation requires escalating rewards.
Most capitalist systems are based on extrinsic motivation. Capitalism assumes workers ONLY work for rewards. You don't have to read Drive to know people work for many reasons. Apply the wrong motivational approach and results suffer. When Sweden paid blood donors blood donations went down. When Sweden made a contribution in a blood donor's name conversions and response increased. Don't apply extrinsic motivation when people want to help (i.e. are intrinsically motivated).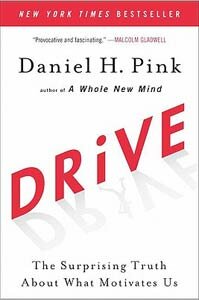 Why are most marketing and sales approaches based on extrinsic motivation?  Pink's book explores reasons our motivational systems are helplessly "old school". Great Internet marketing must motivate extrinsic and intrinsically motivated people.
Ways your Internet marketing can motivate the intrinsically motivated:
Create authentic 360 degree marketing.
Share everything early.
Address 5 W's in your marketing (Who, What, Where, When, Why).
Create active presence in social networks.
Develop relevant and fun email marketing.
Listen more than you talk.
Curate what you hear back to supporters.
Market to WE not US and THEM.
Recognize importance of the Hero's Journey.
Only As Good As Your "Myths"
Hearing, "What we do is BORING," at content marketing conferences never ceases to amaze. "Boring" used as an excuse for why a small to medium-sized business (SMB) can't develop great content is absurd. Passion and aspirations drive behavior. A "curse of knowledge" could be the problem. In Made To Stick the Heath brothers share something most marketers know – the worst team to sell something is the one closest to it.
What you do is heroic. What you do changes the world in a measurable and important way.  Do you need to get back in touch with your company's greatness?
Ways to re-discover your hero journey:
Create a "help tell our story contest" INSIDE your company.
Create a "help tell our story contest" OUTSIDE your company.
Ask key customers to help reconnect with your GREATNESS.
Hire a writer/marketer to rewrite your about page after doing some research.
Ask customers and employees to PIN your story on Pinterest.
Use an Online Reputation Management tool such as Radian6 and review ALL comments and beliefs about your company.
Hire someone like my friend Mary Kay O'Connor to conduct customer interviews.
Interview your employees.
Discover or re-discover your creation story, hero's journey and listen carefully for the ring of truth from the social web.
Compete Different
Know your story AND become a great storyteller are CSFs (Critical Success Factors) for Internet Marketing. Compete different is a CSF too. Google demands content and rewards "altruism". Google's algorithm is based on LINKS. Links are VOTES. Google is a vote tabulation machine.
"Link Love", sharing a link from your website, blog or social networks,  might be the most altruistic act on earth.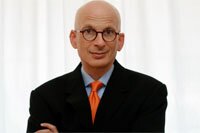 Seth Godin, speaking at High Point University several weeks ago, shared a story. Godin told an audience of more than 400 students and Internet marketers how a Paris coffee shop is so sure their coffee is great their loyalty program encourages customers to try other Parisian coffees.
This "collaborative competition" creates a rising tide. All Parisian coffee shops will rise with the tide. Together we are stronger than alone in marketing, Google and life.
Does your company have the confidence to suggest customers try competitors? Can your company take a wider view and so become an authority?
Greatness means passion, art and commitment. Google and Godin tell us greatness happens by taking a larger view, by caring enough to create rising tides.  Imagine we sit at a Paris sidewalk cafe sipping cinnamon latte spiced with nutmeg. "Want the sports section." a fellow ex-pat asks. "Yes," we say because yes is always the answer to such a helpful stranger.
* Godin picture from High Point University blog.